2013 Dates Coming Soon
About the Miracle Match Foundation
In 1997, the Miracle Match Foundation was established in Grand Rapids, Michigan, by tennis pro Bill Przybysz after he was diagnosed with Leukemia. The foundation's mission is to help individuals and their families with the challenges they face while battling stem cell-related disorders. Currently, the Foundation provides funding for donor registration programs, hospitality suites and research facilities. For more information on the foundation, visit miraclematchfoundation.com or connect on Facebook.
About WKP Sports and Entertainment, LLC
WKP Sports and Entertainment, LLC. is a production company that produces and manages high profile entertainment events. WKPS&E has been contracted by the Miracle Match Foundation, a 501(c) 3 charity, to manage its fundraising activities and charitable events.
Bankers Life Fieldhouse, Indianapolis, January 2012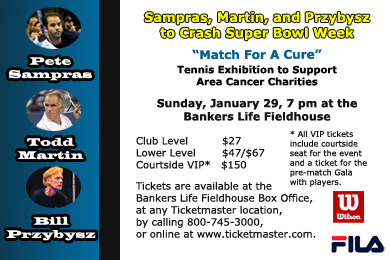 Amelia Island Plantation, May 6, 2012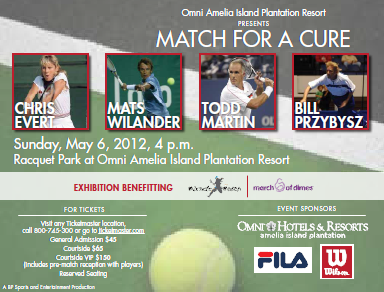 Mohegan Sun Arena, September 14, 2012